Congratulations on the arrival of your multiples! During the first couple of years we realise it can be difficult getting out and about with your multiples. For many parents the experience of parenting more than one baby at once can also be overwhelming. SSMBA has a range of programs, support contacts and playgroups which all aim to help your transition into multiple parenthood be as smooth as possible.

Buddy Program
The SSMBA Buddy program pairs new and expectant mums with those who have already survived the first year of raising multiples. Your "buddy" will offer support throughout the first year and beyond, and the pairing can be as casual or as formal as you like.
Equipment Hire
SSMBA hires out Breast Pumps and Feeding Pillows at inexpensive rates for members. For more information click here.
Breastfeeding And Bottle Feeding Contacts
If you need advice with feeding or wish to discuss the options, we have specialist members who have 'been there and done that' and who are more than willing to offer support. As required, members are also put in touch with relevant agencies and external service providers for additional support.
Premature Birth Support Contact
Not all babies make it to term and when you have two or more babies arriving early, it can be a stressful and worrying time. SSMBA has a Premature Birth Support Contact - a volunteer who has been through premature birth with their babies, and who can offer support and guide you to resources that are available to help your experience be as positive as possible.
Parents 'n' Bubs Playgroup
Parents 'n' Bubs playgroup is for parents and carers of multiple birth children, aged from 0-12 months. Thanks to funding from Sutherland Council Community Services and Arts Grants, we are able to continue to provide the support of a mothercraft nurse. Sessions are facilitated by Catherine Conyngham, a Mothercraft nurse from Step by Step Progressive Parenting. Catherine provides relevant resources and support about feeding, settling, routines and other issues, and facilitates discussion. She is present to answer all your questions (both pre and post multiple birth) and offer support in a welcoming and safe environment. This group is run on a Friday fortnight at Menai Community Centre.
Park Playdates
Various park playdates are held throughout Southern Sydney each month and all details of park play dates are listed in our monthly newsletter. Having fortnightly parent groups and play dates mean that there is often one or two get togethers per week for SSMBA members to attend. Members are welcome to attend as many play dates as they wish, as soon as they are ready and siblings are encouraged to come along as well. This also includes attending before your multiples are born if you are currently expecting.
Parenting Education Seminars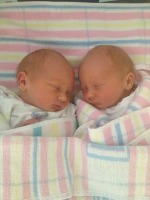 These are possible thanks to funding grants. Please refer to the calendar for information nights in a number of southern locations on topics including:
Sleep settling and Routines 0-1 yrs

Behaviour and speech

Nutrition and fussy eating